Lessons
Maki Sushi

・Maki (rolled) sushi
・Miso soup
・Side dish x 2
・Dessert

Our most popular course!

16,000 JPY/person

Roast Wagyu Beef with
Wasabi Sauce

・Roast Beef
・Miso soup
・Side dish x 2
・Dessert

Extra fee  +JPY¥2,000

Real Japanese Wagyu beef can only be enjoyed Japan!

18,000 JPY/person

Okonomiyaki

(Osaka Style Savory Pancake)

・Okonomiyaki
・Miso soup
・Side dish x 2
・Dessert

Osaka's famous speciality Okonomiyaki!

16,000 JPY/person
Gyoza

・Gyoza dumplings
・Miso soup
・Side dish x 2
・Dessert

Let's enjoy wrapping gyoza together!

16,000 JPY/person

Miso making class

・Made rice Koji miso from scratch
・Miso tasting
・Koji explanation
・Tea with sweets

18,000 JPY/person
Fermentation class

・Main menu
・Side dish
・Miso soup
・Miso tasting

16,000 JPY/person
*Osaka Kitchen can adapt a menu around your food allergies and restrictions. Please contact us and to see what we can do for you.
Miso lover Yoko
Miso is one of the best fermented ingredients to know about Japanese food and culture. Let's enjoy the world of miso together!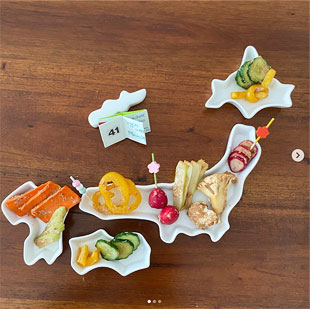 Thanks to our small lesson sizes, we can easily customize a menu to your requests and needs.
Just ask!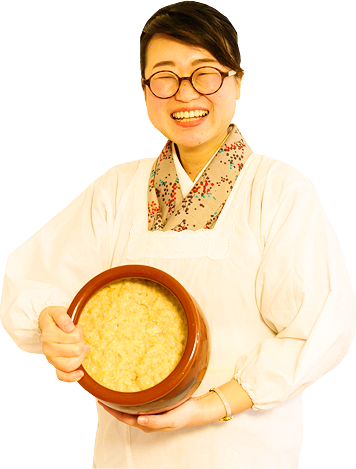 Time

・Lunch Lesson (11:00~13:30)
・Dinner Lesson (18:00~21:00)

*Lesson times can be adjusted with advanced request
Payment

Payment via credit card (Visa, Amex, Mastercard) or Pay Pal are accepted
19,800 JPY/person for solo participant
Discount 3,000 JPY per person for students only groups

Children welcome!
0-3 years: Free / 4-15 years: 3,000 JPY discount

Price includes 10% sales tax.
Includes

Apron, towel rental and recipe print out.
Cancellation Policy

・Cancellations are possible up until 24 hours prior to lesson start time.
・Any cancellation will incur a 100% cancellation fee.
Availability

Lunch lesson 11:00-13:30
Dinner 18:00-20:30
Always welcome!
GROUP

Welcome, Group customer!
Cooking is good for team building!

Vege&Vegan

Happy to arrange vegetarian and vegan menus.

Solo and Family

Don't hesitate to join! Perfect for solo traveler or families with kids!
Thanks for your heartwarming reviews!!
"My heart is more full than my belly right now"
Those were the words my sister mentioned to me on the walk home after taking this class. Yoko is such a warm and beautiful soul and showed us so much more than how to make sushi. She shared with us her vast knowledge of Japanese culture and history and invited us to share with her some of the customs and cooking traditions from the country we come from. Sharing stories over the dinner we prepared was one the highlights of my time here in Japan. As we were unfamiliar with the area, Yoko even offered to walk us to the nearest train station, with an impromptu tour of her neighbourhood along the way.
Yoko, you are such a fantastic ambassador for your city. My sister and I are so glad we came to your kitchen. We wish you all the best.( Kyran C 2018. Feb)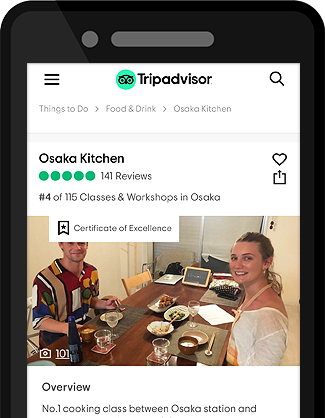 About Us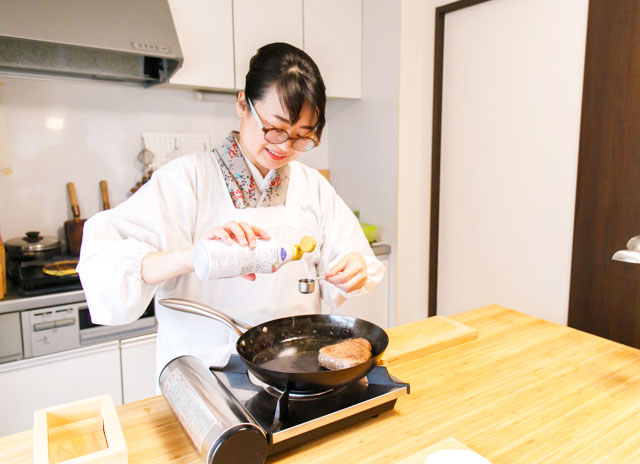 Yoko Inagaki
Hi! I'm Yoko. I love traveling, cooking and teaching people about the great food here in Osaka. I believe local kitchens are the best places to get to know a country. I would love to introduce you to Japan's unique food and culture.
I have also taught Japanese cooking abroad. During 2019, I led Japanese koji fermentation workshops in London and in Dublin. For me, these were amazing chances to learn about the culture of England and Ireland through their kitchens while my guests had an authentic taste of Osaka.
・5 years of teaching experience!
・Nationally licensed tour guide
・Featured in The Telegraph
・Lived in China for 18 months (Lessons in Mandrin also OK!)
History
2015
-2017

Osaka Kitchen established Featured by Mainichi newspaper
Awarded The Certificate of Excellence by Tripadvisor
OSAKA KITCHEN TOURS started! Awarded The Certificate of Excellence by Tripadvisor

2018

Studied fermentation at summer school of Ryukyu University Largest group customer (23 person team building event) Awarded The Certificate of Excellence by Tripadvisor

2019

Featured by The Telegraph Received commendation from Osaka Convention and Tourism Bureau Cooking class in London and Dublin Awarded The Certificate of Excellence by Tripadvisor

2020

Online class start.
Miso soup challange
#misosoup100 recipes

2021

#miso100 recipes

2022

Cook book Yoko publised

2023

Workshop at Netherland National geographic
Osaka Kitchen meets the world!
(Special lesson)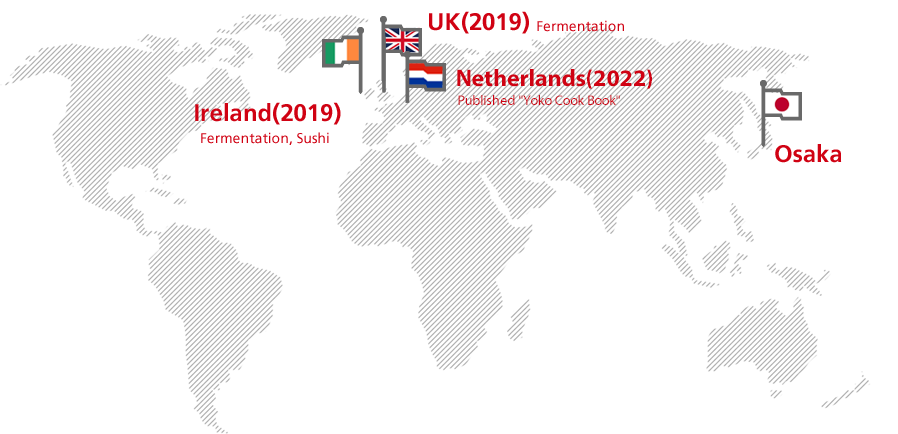 Access to Osaka kitchen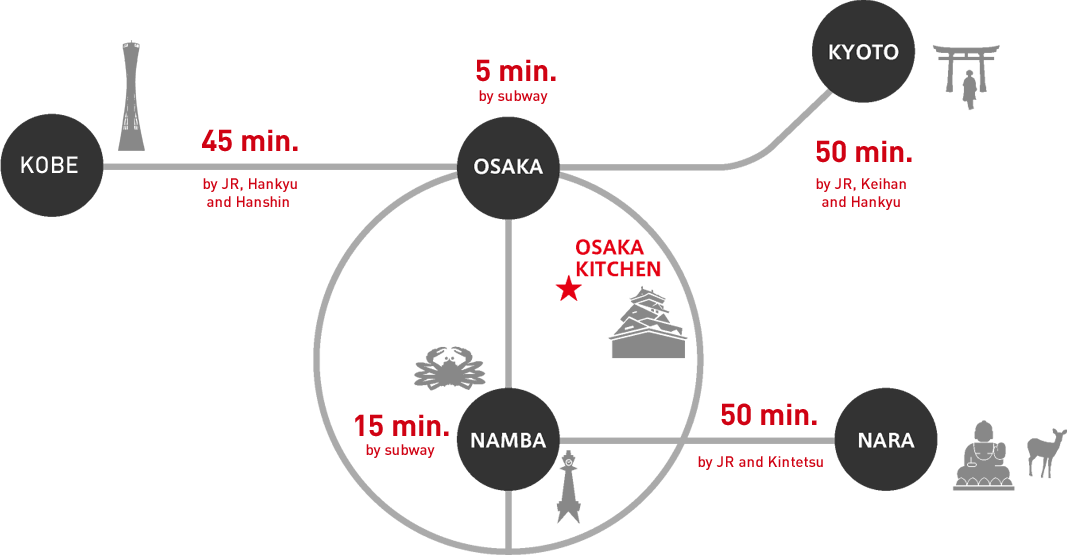 Easy access
Within 1 hours from major cities of Kyoto,
Kobe and Nara.
A Cooking Class at
Osaka Kitchen
Greeting at the meeting point in front of the KOHYO Supermarket.

Walk to Osaka Kitchen (10 min)

Short talk about the day's recipes (10 min)

Cooking time (about 60 min)

Bon appetit!

Return to the station. See you again!
Book now
How to
book
1:Click "Book now" Send a mail of requested date, time, menu, name, and contact address.
2:Receive our reply Osaka Kitchen will reply to you and we will personalize your lesson and payment option.
3:Payment
4:Confirmation We will send you comfirmation mail. See you then!
Please note that the emails from "gmx" account
may not be received.
In that case, please use a different address.
Thank you for your understanding.